Published On 2021-05-21
Protect Peatlands for people and planet
The 1997 Indonesia fire burned 9.7– 11.7 million ha on Borneo and Sumatra, destroying 4.5–6 million ha of species rich Dipterocarp forest (including 1.5–2.1 million ha on peat soils). Estimated carbon emissions from these 1997-98 fires on peatlands were 0.81–2.57 Pg, equivalent to 13–40% of annual global fossil fuel emissions [source internet ]
Peatlands and climate change
Peatlands are a type of wetlands which are among the most valuable ecosystems on Earth. They are critical for preserving global biodiversity, provide safe drinking water, minimize flood risk and help address climate change.
Peatlands are the largest natural terrestrial carbon store. The area covered by near natural peatland worldwide ( >3 million square km) sequesters 0.37 giga tons of carbon dioxide (CO2) a year – storing more carbon than all other vegetation types in the world combined.
Damaged peatlands are a major source of greenhouse gas emissions, annually releasing almost 6% of global CO2 emissions. Peatland restoration can therefore bring significant emissions reductions.
Importance Of Peatlands
Peat swamp forests are lowland vegetation in tropical peatlands where most of the flora and fauna are uniquely adapted to the environment – i.e waterlogged and acidic water. Peat swamps are important for many reasons, mainly as a source of fresh water, flood mitigation, carbon sink and store, and to safeguard biodiversity.
Unfortunately, Western Europe has lost nearly 90% of its peatlands while Central Europe only has 50% of functioning peatlands. In Asia, 70% of peat swamps have been lost. Now, more than ever, safeguarding and rehabilitating peatlands are an important effort for the good of the planet and its inhabitants.
1. Peatlands as carbon sinks
One very surprising fact about peatlands is that these forests store about 30% of all carbon on land. That's about 500 billion tonnes of carbon! Peatlands in Southeast Asia alone hold 14%, or approximately, 68 billion tonnes of carbon in the world. Making sure the carbon in peatlands go undisturbed is the key to regulating climate as improperly managed peatlands can cause a massive release of carbon into the air, which even basic science will tell you is very, very bad.
2. Peatlands and water regulation
Apart from storing vast amounts of carbon, peatlands consists of approximately 90% of water in soil, stored amongst the decaying, porous organic matter (dried leaves, etc). This gives the forest floor a muddy quality typically associated with swamps and bogs, both different types of peatlands
Healthy, wet peatlands absorb pollutants from the atmosphere, including nitrogen, sulphur dioxide, heavy metals and carbon. These pollutants are what make peat soil acidic. Since the pollutants are absorbed into the soil, water that flows out of peatlands into the ground or rivers come out clean – like a natural filtration system.
When peatlands are drained, it will not be able to regulate pollutants in the atmosphere as well as it should, and that will result in an increase of carbon in water. Water with high carbon content will need to be treated before it can be safely used, and the treatment process is both expensive and results in harmful by-products.
Apart from regulating pollutants, peatlands also regulate excess water. Peatlands can reduce downstream flooding as it acts like a sponge to soak up excess water. And in dry seasons, peatlands slowly release water, thus ensuring a source of fresh water for surrounding communities. Peatlands are great water reservoirs for irrigation, hydro-electricity, recreation, aquatic farming, and as a source of clean water.
Drainage Process
Reasons Behind Draining
It's quite evident that draining of peatland is a serious problem and has direct impact on climate change. Though some peatlands are draining naturally but in many countries they are draining because of us.
In Southeast Asia, peatlands have been drained for conversion to plantations (for palm oil and paper pulp); in Europe and North America, lowland peatlands have been drained for vegetables, cereals and livestock pastures.
Agriculture, forestry and mining have so far impacted about 25% of the peatlands on Earth. While large parts of the enormous peatlands of North America and Russia are still relatively intact, in many parts of Europe, Central and Southeast Asia, Argentina and Chile, peatlands have been significantly degraded. There is increasing interest in protecting and restoring peatlands in order to conserve existing C stocks, help mitigate climate change, and preserve ecosystem benefits.
Drainage And Peat Fire
As you have seen in drainage process above, dry peatlands are prone to catch fire and accelerates the drainage process. When peatlands are drained, they become highly vulnerable to peat fire. A simple discarded cigarette butt or a match can cause huge devastation, degradation of the resource base, accelerated carbon emission and a host of health issues for local communities. Dry peat ignites very easily and can burn for days or weeks, even smoldering underground and reemerging away from the initial source. This makes these fires incredibly difficult to extinguish, and highly unpredictable and uncontrollable.
How AI Can Help To Protect Peatlands?
If you are following the article so far, you have realized dry peatlands are prone to fire. When fire is set or even when peatlands are drying, it releases all the CO2 into atmosphere. Sometimes human set fire intentionally to burn the peatlands to expand farming lands. AI can help to predict when peatlands are drying or set on fire collecting sensor data such as Soil Moisture level, CO2 emission in the air, increase in Temperature and then analyzing these data to predict the situation such as drought, fire etc.
Based on the early prediction, we can take some preventive & proactive measures such as put out the fire before it burns the peatland or rewet the peatlands when it's drying.
Peat Guard
Introducing Peat Guard - A Solar powered device running tinyML model on Quick Feather board equipped with a Soil Moisture Sensor, Analog Temperature sensor and MQ7 CO2 gas sensor. The has a LoRa node - Heltec Wireless Stick Life which sends UPLINK data to Helium, The People Network which feeds data to Ubidots dashboard.
Watch the demo on youtube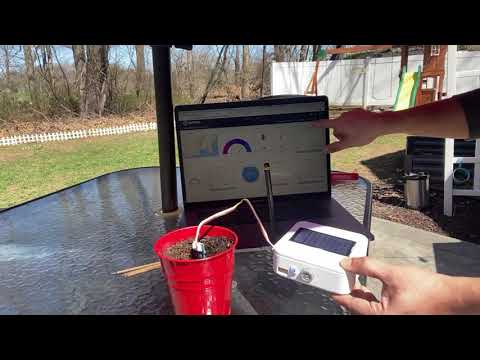 Checkout the full project on Hackster.io